Special properties for tungsten alloy weights
Here are some main advantages of tungsten heavy alloy weight:
- High density up to 18.5 g/cm3.
- Up to 65% denser than Lead.
- Up to 130% denser than Steel.
- Mechanical properties to suit either dynamic or static locations.
- Weakly Ferro magnetic.
- Non-magnetic, if specifically required.
- Alternative to Lead.
- Non-Toxic.
- Corrosion resistant.
- Easily machined.
- Easily mechanically joined, brazed or shrunk fit to other materials.
- Equivalents to most commercial specifications available.
Counterweights made from tungsten alloy
Due to its special properties, tungsten heavy alloy is usually used in the counterweight of yacht, sailboats, submarines, etc.
Chinatungsten bears abundant experience in supply of tungsten alloy counterweights to different overseas yachts' manufacturers, up to the most specific designs requirement.
Brick-shape counterweights are the typical one we have ever been supplying in bulk quantities. By their own, our client designs and machines the bricks into the integrated counterweight parts with tungsten alloy pins' connecting function.
If you are the yacht producer, if you are in need of tungsten counterweight, just feel free to contact our sales team sales@chinatungsten.com.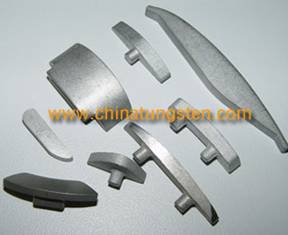 Name: Tungsten Brick

Size: 200mm×100mm×50

Composition: 95%WNiFe

Density: 18+/-0.15g/cm3
If you have any interest in our products, please feel free to contact us by email: sales@chinatungsten.com or by telephone:86 592 5129696.