What is tungsten heavy alloy?
Tungsten heavy alloys illustrate the advantages of microencapsulated powders. A brief background of this alloy system follows.
Tungsten heavy alloys generally are refractory metal, which have two-phase composites consisting of W-Ni- Fe or W-Ni- Cu or even W-Ni-Cu-Fe, some tungsten alloy is added Co、Mo、Cr, etc. They have very high melting point and have a density twice that of steel and are more than 50% heavier than lead. Tungsten content in conventional heavy alloys varies from 90 to 98 weight percent and is the reason for their high density (between 16.5 and 18.75 g/cc). Nickel, iron and copper serve as a binder matrix, which holds the brittle tungsten grains together and which makes the alloys ductile and easy to machine. Nickel-iron is the most popular additive, in a ratio of 7Ni:3Fe or 8Ni:2Fe (weight ratio). The conventional processing route for tungsten heavy alloys includes mixing the desired amount of elemental powders, followed by cold pressing and liquid phase sintering to almost full density. The matrix alloy melts and takes some tungsten into solution during liquid phase processing, resulting in a microstructure through which large tungsten grains (20–60µm) are dispersed in the matrix alloy. The as-sintered material often is subjected to thermo mechanical processing by swaging and aging, which results in increased strength and hardness in the heavy alloys.
The majority of current uses for WHAs (tungsten heavy alloys) are best satisfied with the W-Ni-Fe system. Alloys such as 93W-4.9Ni-2.lFe and 95W-4Ni-lFe represent common compositions. The addition of cobalt to a W-Ni-Fe alloy is a common approach for slight enhancement of both strength and ductility. The presence of cobalt within the alloy provides solid-solution strengthening of the binder and slightly enhanced tungsten-matrix interfacial strength. Cobalt additions of 5 to 15% of the nominal binder weight fraction arc most common.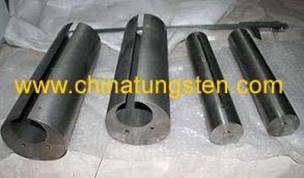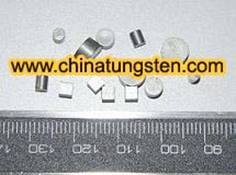 Appliance of tungsten heavy alloy

This property combination has made this alloy a candidate for defense and civilian applications. They are widely used in many fields such as the sports, including golf, fishing, darts, yacht, racing car; the medical, including radiation shielding, source holder, collimator, isotope container, nuclear syringe; the scientific, including tungsten heat sinks, oil drill, mine exploitation; also in military, including bullet, shrapnel head, balanced ball for missile and plane, etc.

The major tungsten heavy alloy products and services of CTOMS

1. Tungsten Heavy Alloys (WHA)
--Tungsten heavy rod, bar, cube, brick, block, plate for various applications
--Tungsten billet/barrel as main body of professional darts,
--Screws/heads for golf club, flying fish sinker
--Counterweight used in yacht, sailboat, submarine and other vessels
--Ballast for aircraft, helicopter, F1 racing cars, and other vehicles
--Kinetic energy penetrators for defeating heavy armor
--Governor balance weight, holders for Oil Well Logging
--Cubes/balls for bullet, rifle, missile and bomb
--Radiation shield, source holder for nuclear U-power, X-ray, and medical instruments parts etc.
-- Bobs/vibrators for mobile phone, clock
--Tungsten-thoria guide nozzles
2. Technologies/Certificate
--Design and machining
--Professional inspection and technical data available
--Authorized ISO 9001:2008 Certificate
3. E-commerce
--E-news agent of China Tungsten Industry Association (CTIA)
--Web construction service for companies of Nonferrous-Metals
If you have any interest in our products, please feel free to contact us by email: sales@chinatungsten.com or by telephone:86 592 5129696.