Productivity or cost-per-hole is the biggest trend affecting drilling today. This means drilling-tool and tungsten carbide drill bit manufacturers must find ways to combine some operations and also develop tools that can cope with higher feeds and speeds.
A carbide drill bit can be swapped out easily and accurately and customers can use a single drill body with multiple carbide drill bits to drill several different hole sizes. In addition, it eliminates the cost of backups needed when regrinding brazed or solid-carbide drills.Instead of replacing the whole drill body, end users only have to purchase a carbide drill bit, which costs about the same as regrinding a brazed or solid-carbide drill.
The advantages of tungsten carbide drill
Tungsten carbide drill (hollow drill, core drilling)
1. To drill for more complex materials, you can choose a higher cutting speed.
2. Selected special high-performance alloy steel drill bit blade, effectively reduce the avalanche knife, good wear resistance
3. Multi-terminal geometry cutting edge, improve drainage performance, to keep small cutting resistance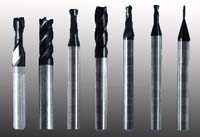 Solid carbide drill

Solid carbide metric drill bits

Solid carbide end mills

Solid carbide keyseats

Solid carbide reamers

If you have any interest in our products, please feel free to contact us by email: sales@chinatungsten.com or by telephone:86 592 5129696.