End mill
Carbide end mill is used for milling, with one or more of the rotary tool cutter.The margin in workpiece is cut by the mill intermittently. Carbide end mill is mainly used in processing plane, steps, grooves, forming the workpiece surface and cutting and so on.
There are two common materials for manufacturing end mill: high-speed steel, and tungsten carbide. Carbide end mill has relatively higher hardness, stronger cutting ability, and can improve the speed and feed rate as well as increasing productivity.
Main application of carbide end mil
It is mainly used for CNC machining centers, cnc engraving machines generally.
It can also be fitted to some common hard milling equipment for processing uncomplicated heat treatment Material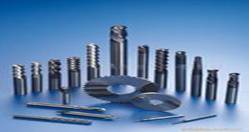 CHINATUNGSTEN ONLINE can manufacture and supply carbide end mill of different specifications. If you have interest in carbide end mill, kindly please send us your detailed requirements concerning dimensions, tolerances, chemical compositions etc.
If you have any interest in our products, please feel free to contact us by email: sales@chinatungsten.com or by telephone:86 592 5129696.